Save Thousands in Tuition
Powered by Research, Driven by Innovation.
Download a FREE program brochure.
To get your brochure and speak with an Admissions Counselor about financial aid, complete the form below.
Our Partnerships Help You Save on University of Delaware Tuition
In partnership with select organizations, you could be eligible to receive a 10% tuition discount on online programs with the University of Delaware if your organization is affiliated with our Learning Partner Network.* We welcome you with an online format that allows you to study when and where it's best for you. You can earn your degree quickly and more affordably than you think to advance your career sooner.
A University of Delaware (UD) online master's degree program gives you access to curriculum that uses the latest research to help you build a stronger foundation in your area of study. As a UD graduate, you can continue in your career or start a new one as a leader and innovator prepared to anticipate and meet the critical needs of our time. You'll study with a faculty of experienced practitioners who are dedicated to discovery, development and advancement in their respective fields.
The University of Delaware is a highly respected research institution. Our curricula are developed using the latest research in respective fields. As a result, you graduate with a stronger, forward-looking foundation in your area of study.
Ranked #38 in Top Public Schools by U.S. News and World Report.1
For over 50 years, select Lerner Colle programs have been accredited by AACSB International (the Association to Advance Collegiate Schools of Business).
The University of Delaware is designated as a highest research activity institution by the Carnegie Foundation on Higher Education.
Leading Programs
The University of Delaware offers five online master's degrees, providing high-quality education and research-driven experiences as well as the convenience professionals need when navigating work, school and family commitments.
Choose from two concentrations (Public Relations and Digital/Social Media) and learn to drive tactical communication initiatives to help shape your organization's relationship with all audiences and stakeholders. Gain the skills to design and implement research for your organization, evaluate social media analytic data for effective communication campaign development, and more.
Designated a National Center of Academic Excellence in Cyber Defense Education by the National Security Agency and the Department of Homeland Security, the University of Delaware is leading the cybersecurity field. This MS program combines foundational theory and hands-on practice to show you how to create secure systems and software that integrate defensive tactics in all stages of the process: design, execution and evaluation.
Our online Master of Science in International Business (MSIB) provides you with the specific knowledge you need in your role — or the role you want — to rapidly make you the globalization expert in your area of business, whether that's marketing, finance, HR, or new business development.
You'll master skills taught in other ECE programs and gain the critical insight to secure, protect and implement the systems you create. You'll focus on the increasingly critical intersection of information processing and cybersecurity within electrical and computer engineering.
Prepare to lead in contemporary public service and nonprofit management Learn from experienced practitioners, develop your skills among highly active researchers, and get ready to serve the greater good. This program includes the option to customize your degree with a nine-credit concentration in Healthcare Management.
Save Even More
We're working with select organizations to make sure you can advance your education and career in an affordable, timely way. Be sure to ask your organization's Human Resources team about your company's tuition reimbursement plan to receive further savings.
Request Info
Online Learning You Can Apply Today
Advance your professional skills beyond what you've imagined with a master's degree from the University of Delaware. Our flexible programs are designed to let you complete coursework and online classes while still maintaining a busy career. In fact, you can apply the latest research and strategies gained in class in your current job.
Curricula Designed to Inspire Success
Earning a graduate degree means you're committed to the future and at UD, you'll be immersed in concepts and perspectives that will prepare you to reach your goals and become a leader in your field. The UD graduate faculty is comprised of experts in their field who are driving some of the most cutting-edge research today. With coursework that combines traditional curricula with innovative and future-focused subject matter, you'll graduate with a knowledge base and skillset to further your career every step of the way. The result is a knowledge base to take into your career and a skillset to further it every step of the way.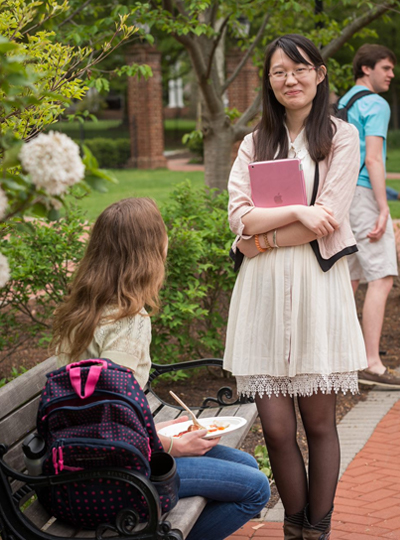 Boost Your Career Prospects
With an online master's degree from the University of Delaware, you'll be able to open doors to promotions and higher pay. In 2020, master's degree-holders earned a median weekly pay that was $240 more each week than that of bachelor's degree-holders.2 Salary and positions are just a few of the benefits of having a master's degree. While earning your MS or MA at the University of Delaware, you learn from leaders in their fields. You also become part of their professional network and those of your classmates, an invaluable advantage to leverage as your career's ascent continues.
Popular Careers for UD Master's Graduates
Machine Learning Engineer
Global Marketing Director or Manager
International Human Resources Manager
Chief Executive Officer
Financial Manager
Cybersecurity Analyst
Communications Director
Sources and Disclaimer
"Best Online Programs Rankings," U.S. News and World Report. Retrieved September 30, 2021, from http://www.usnews.com/.
"Education pays, 2020," Career Outlook, U.S. Bureau of Labor Statistics. Retrieved on October 5, 2021 from https://www.bls.gov/.
*Must be an employee or member of an organization in the university's Learning Partner Network. Tuition discount applies only to University of Delaware online programs and may vary by program. This discount is for tuition only and cannot be combined with any other tuition discounts or institutional scholarships. To confirm tuition discount and program details, please consult an admissions representative at online@udel.edu. Information presented may be revised without notice.